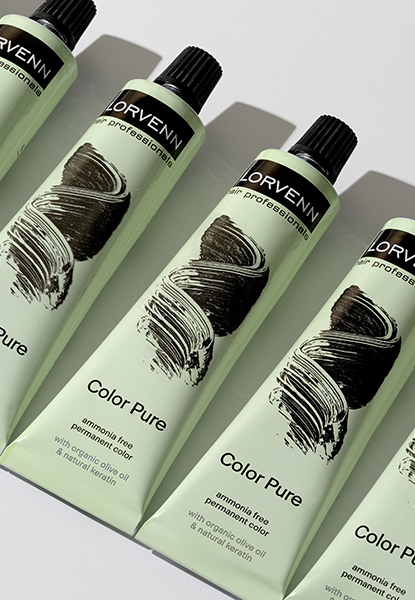 AMMONIA FREE PERMANENT HAIR COLOR
INTENSE LONG LASTING COLOR & SHINE
ΝEW ENHANCED FORMULA & PACKAGING – SILKY TEXTURE & LAVISH VOLUME
AMMONIA FREE PERMANENT HAIR COLOR
INTENSE LONG LASTING COLOR & SHINE
ΝEW ENHANCED FORMULA & PACKAGING – SILKY TEXTURE & LAVISH VOLUME
Color Pure
Permanent hair color without ammonia
Dermatologist tested permanent hair color for women intolerant to ammonia. Lorvenn's Color Pure is friendlier to your hair and can brighten your natural hair color up to 2 shades. Perfect for thin and fragile hair. Rich in organic olive oil extracts, Color Pure offers silky texture and rich volume in a gentle, non-destructive way. It is available in 63 stunning shades of color.
Color Pure Developing Emulsion
Gloss Colorant Emulsion
Lorvenn's ammonia-free Color Pure Developing Emulsion uses natural keratin, vitamin B5 and chamomile to extend your hair color's life and make your hair shinier and smoother. For even more impressive results we recommend using Lorvenn's emulsion together with Lorvenn's Color Pure dyes.